Obama calls for 'courage' to oppose Obamacare repeal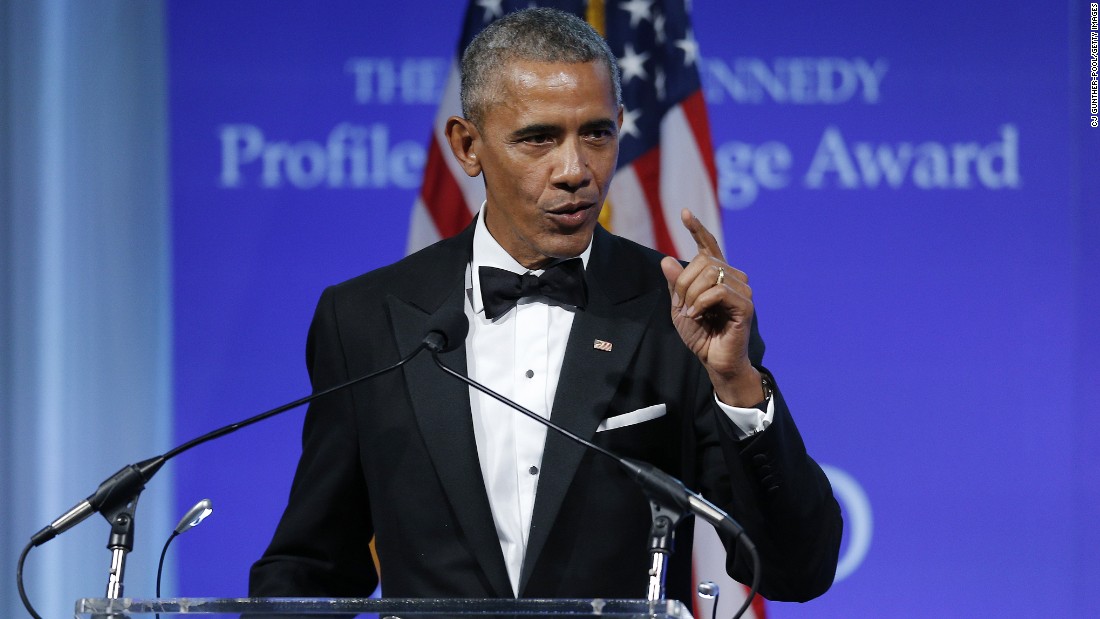 (CNN)Former President Barack Obama called on members of Congress to oppose the repeal of the Affordable Care Act, his signature health care law, in a speech Sunday night at the John F. Kennedy Library Foundation in Boston.
Obama's remarks, which he gave upon receiving the 2017 John F. Kennedy Profile in Courage Award, are his first since the House voted to repeal and replace Obamacare on Thursday. They mark a rare post-presidency appeal on a policy matter for Obama, who has steered clear of discussing political issues since leaving office.
Obama called on lawmakers to have the courage to "champion the vulnerable and the sick and the infirm." He said he hopes they understand that "courage does not always mean doing what is politically expedient, but what they believe deep in their hearts is right."
The former President also said there was a reason why health care reform had not been accomplished earlier: "It was hard."
In his acceptance speech, Obama talked about the need for courage in times when politics "remains filled with division and discord, and everywhere we see the risk of falling into the refuge of tribe and clan."
The former President also spoke about challenging the status quo and "fighting the good fight." Although Obama did not explicitly mention the health care vote from last week, he focused on the need for health care for all Americans. He spoke of the courage of the men and women who were in Congress when he was President, who risked their political futures to pass the Affordable Care Act.
"They had a chance to insure millions," Obama recalled. "This same vote would likely cost them their new seats and perhaps end their political careers. And these men and women did the right thing, the hard thing, and theirs was a profile in courage."
The House narrowly passed the GOP's American Health Care Act on Thursday, sending it to the Senate, where Republicans, who tend to be more moderate than in the House, have
expressed concerns
about provisions that would freeze the expansion of Medicaid in 2020 and make changes to the mandate on coverage for preexisting conditions; several Republican senators have said they expect to write their own bill over the coming weeks.
Obama alluded to the coming legislative fight when he said of the current crop of lawmakers: "This great debate is not settled, but continues, and it is my fervent hope and hope of millions that regardless of party, such courage is still possible."
The award Obama received Sunday is given to a public official or group of public servants "whose actions demonstrate the qualities of politically courageous leadership," according to the John F. Kennedy library's website.
Songwriter James Taylor was also at the ceremony and said it is a "great relief" to be in the presence of the Obamas again.
Taylor said there were similarities between the Kennedy and Obama administrations in that "both summoned the very best of our spirit and generosity."
Obama was introduced by former Ambassador to Japan Caroline Kennedy and her son and grandson of President Kennedy, Jack Schlossberg.
Former Presidents Gerald Ford and George H.W. Bush have also received the Profile in Courage Award.
The John F. Kennedy Library Foundation said Obama received the award for "expanding health security for millions of Americans, restoring diplomatic relations with Cuba and leading a landmark international accord to combat climate change."
Read more: http://www.cnn.com/2017/05/07/politics/obama-speech-health-care/index.html